Ski socks
Foot comfort is often what makes or breaks a day on the slopes, but socks are usually the last thing people think about when gearing up for skiing or snowboarding. Make no mistake: Boot fit is crucial to finding the right ski or snowboard setup, and it all starts with how your socks feel in your boots. That's why experts recommend selecting socks before you purchase new boots and trying on boots with the socks you intend to wear while skiing or riding.
Ski sock technology has come a long way in recent years. The latest models include new design features for better fit, breathability and moisture management. When comparing socks, the main differences you'll notice are the composition of the fabric and the level of cushioning. This article will cover what you need to know when choosing socks to wear for skiing or snowboarding.
Ski Sock Thickness and Cushioning
It may seem counterintuitive, but a thicker sock is not necessarily a warmer sock. Your feet need adequate blood flow to stay warm, and socks that are too thick can restrict circulation—especially when paired with snug-fitting boots. Meanwhile, advancements in fabric technology have improved the thickness-to-warmth ratio, enabling skiers and snowboarders to get by with a thinner sock than they needed back in the day. 
Here are additional considerations regarding sock cushioning:
No cushioning: Top skiers and snowboarders often opt for a sock with no cushioning or very light cushioning because aggressive boots have a tighter fit. Thinner socks are also a good option for skiers and snowboarders who want to feel the terrain underfoot.
Light cushioning: Typically, lightly cushioned socks will have padding on the shin to protect the front of the leg from hitting or rubbing against the front of the ski boot. There will be minimal or no cushioning on the balls of the feet, although reinforced fabric at the toes and heel is common. Look for socks with flat or integrated seams if you're prone to blisters or irritation in the toe area.
Medium cushioning: These socks feature additional padding to increase warmth and absorb impact. Snowboarders sometimes opt for a thicker sock because some snowboarding boots fit more loosely than ski boots. More cushioning may also be preferred by those who tend to ski or ride in very cold conditions.
Heavy cushioning: Not many ski or snowboard socks are designed with heavy cushioning, but ski mountaineers traveling to extreme environments may need a sock with more thickness. Heavy cushioning can also be a good choice for low-intensity winter activities like ice fishing or riding a snowmobile. 
Compression socks: Sometimes used by ski racers and other athletes for performance recovery.
Ski Socks Fit and Length
The basics: Ski and snowboard socks should fit snugly, especially in the foot. This will prevent the sock from moving around or bunching up, which can lead to blisters. They shouldn't fit too tightly, though—you want to have enough room to wiggle your toes and flex your foot. Some socks are designed with technology that helps the fabric stay snug and move in multiple directions with the foot.

Length: Most socks for skiing and snowboarding go up to the knees, helping to protect from shin bang—something that happens when the front of the boot hits or puts painful pressure on the front of the leg. Cross-country skiers and snowshoers may opt for socks with a shorter length since the boots for those activities tend to be shorter.

Sizing: Different companies manufacture socks in different sizing increments, so note your shoe-size equivalent before deciding on small, medium, large or extra-large. If you're between sizes, it's best to size down for a snug fit.
If you choose MCTi ski socks, please follow the size chart to select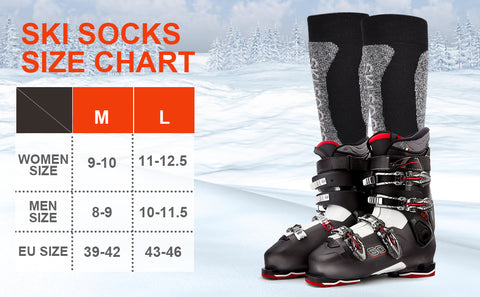 Ski Sock Care
In general, ski and snowboard socks should be washed inside out at a normal setting, in cool or warm water. Tumble dry low or line dry.
Socks will retain their shape best when they are stored flat, rather than rolled up into balls. Wool fibers can attract moths; stashing a small piece of cedar in your drawer will serve as a natural deterrent.
MCTi Ski Sock Features
Material: 40% Thermolite, 35% Veil, 10% Nylon, 7% Lycra, 8% Rubber
Warmth and Dry: The thermolite is a kind of hollow fiber that forms an air protective layer that prevents cold air from entering and wicks out moisture. It is lightweight and comfortable to keep super warmth and dry in winter sports.
More Protection and Support: The high performance skiing socks provides cushioning in the shin, ankle, and the sole to ensures the ultimate comfort and prevent frictions.
Stay-Up Socks: The elastic arch band helps to prevent socks from sliding down and keeping it in place when you are on the slops.
Comfortable and Breathable: The seamless toe added comfort for your skiing and snowboarding. The advanced knitting techniques provides the maximum breathable fit to keep your feet warm and dry all day long.
Click Product Link Learn More : mcti ski socks